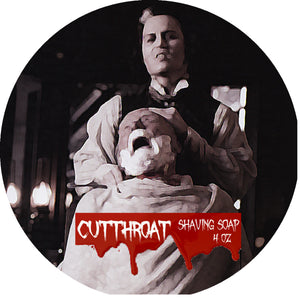 All shaving soap samples include 10 ml of soap (roughly 3-4 shaves per sample).
Apex's take on the infamous Demon Barber of Fleet Street has landed. Our scent embraces the fresh and cleanly scent of walking into your favorite barbershop. Whether you leave dead or alive is up to you. 

A dual tone soap, we have a base of white reminiscent of your favorite shaving cream, with a touch of red to remind you of the equally dangerous weapon held to your fragile throat. 

Embrace the legend of the serial killer barber, while simultaneously comforted by the aromatic therapy of our nostalgic scent. Be weary of your movements as one slip will remind you of your morality. Perhaps the spirit of the demon barber lies within this formula... 


Notes: Top notes of Juniper berries, bergamot and lemon. Middle notes of Jasmine, geranium and orange flower with bottom notes of Tonka bean, soft woods and white musk. 


Soap Ingredients: Stearic Acid, Beef Tallow, Kokum Butter, Shea Butter, Coconut Oil, Castor Oil, Sodium Hydroxide, Potassium Hydroxide, Distilled Water, Glycerin, Fragrance Oil, Kaolin Clay, Mica Clay, Agave Nectar
For external use only. Discontinue use if irritation occurs.