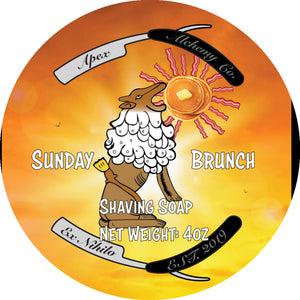 All aftershave samples include 15 ml of aftershave (roughly 3-4 shaves per sample).
Mother's Day comes once a year. The woman who birthed you into this world, the woman who taught you how to tie your shoes, the woman who gifted you sustenance. Do we really need a singular day to commemorate the countless efforts she has given us? 


Treasure the important women in your lives with this set from us here at Apex Alchemy. We bring you a Sunday Brunch multi course meal.
Indulge in these light and airy, fluffy pancakes. Savor the thick and viscous maple syrup as it drowns the edges of your plate and slowly washes away the whip cream on top. With every bite you take, you are swept away by the rivers of syrup on a fluffy raft to deliciousness. Embedded in the raft, life preservers of crispy bacon deliver a salty presence of ocean air. 


Please do not ingest!
Aftershave Ingredients: Witch Hazel, Rose Water, Aloe Vera, Glycerin, Fragrance Oil, Polysorbate-20.
Apply to freshly shaven skin.
For external use only. Discontinue use if irritation occurs.