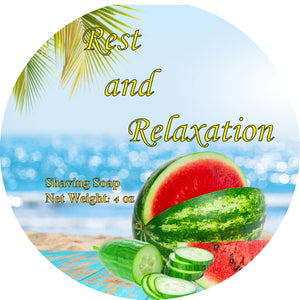 All shaving soap samples include 10 ml of soap (roughly 3-4 shaves per sample).
Summer is supposed to be relaxing. You're supposed to sit back and enjoy life. Unfortunately, life doesn't always permit. Enter Rest and Relaxation! The cucumber melon scent will transport you to your favorite island getaway. 

The menthol will cool you down as you enjoy the spa like relaxation with our super moisturizing and hydrating aftershave formula. Whisk away all your stressors and negative thoughts as we bring the tropical vacation home to you!


Soap Ingredients: Stearic Acid, Beef Tallow, Kokum Butter, Shea Butter, Coconut Oil, Castor Oil, Sodium Hydroxide, Potassium Hydroxide, Distilled Water, Glycerin, Fragrance Oil, Kaolin Clay, Mica Clay, Agave Nectar, Menthyl Methyl Lactate.
For external use only. Discontinue use if irritation occurs.