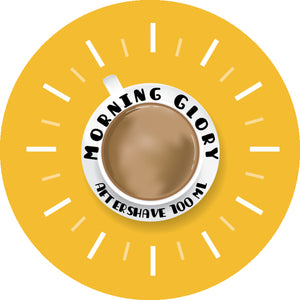 All aftershave samples include 15 ml of aftershave (roughly 3-4 shaves per sample).


The number 1 used drug in the world: Caffeine. In its most popular form has created businesses, driven the ambitions and desires of every working class, as well as created some real snobs. 

Coffee is the liquid that fuels our economy and has become such a staple in our diets that we consider it as essential as water. Well, when the months get cold and you need that little extra oompf to get you going, return to glory with Morning Glory.

Our soap and aftershave set prime you for the long day ahead. Caffeine helps reduce wrinkles and improves skin health as it is a vasodilator. Will this turn you into a super model? No, but it will help promote overall skin care and hydration with our aftershave formula. 

Fresh, vanilla cream swirled in a pool of the darkest roast of coffee with the slightest sweetness of sugar brings you back down to Earth when you enter Cafe Apex. Take a cup or 10 to the face with Morning Glory and face the day. 
Aftershave Ingredients: Witch Hazel, Rose Water, Aloe Vera, Glycerin, Fragrance Oil, Polysorbate-20. Apply to freshly shaven skin.

Important - Please Read: Please discontinue immediately if any discomfort is felt. For external use only.