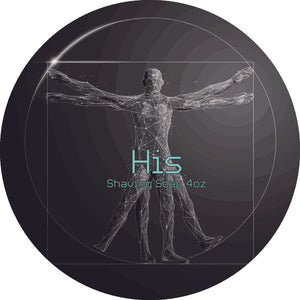 All shaving soap samples include 10 ml of soap (roughly 3-4 shaves per sample).
The holiday season is upon us. Perfumes and various colognes are very common gifts during this time. But we don't want you to have to break the bank during these turbulent times. Enter: His. 

This scent features our premium shave soap experience. With a rich and delicate lather, slip smooth shave, and intoxicating scent His will be the perfect gift on the holiday of your choose and everyday thereafter. With our gorgeous coloring, this soap will stand out and make even the most adamant gel shavers convert to our cult of wet shaving. 

 Scent Profile: Top notes of Calabria bergamot, and lemon zest.  Middle notes of Solar notes and ocean spray accord.  Bottom notes of Ambergris, driftwood and Tonka Bean.
Soap ingredients: Stearic Acid, Beef Tallow, Kokum Butter, Shea Butter, Coconut Oil, Castor Oil, Sodium Hydroxide, Potassium Hydroxide, Distilled Water, Glycerin, Fragrance Oil, Kaolin Clay, Mica Clay, Agave Nectar