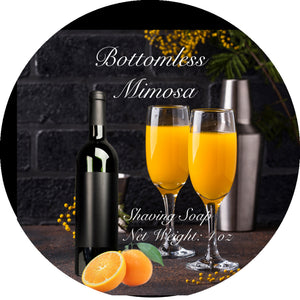 All shaving soap samples include 10 ml of soap (roughly 3-4 shaves per sample).

What is a Sunday Brunch without a little tipsy citrus? You're excited to engulf your multi course brunch with the pancakes, syrup, bacon, and waffles. But to truly enjoy the experience, you need refreshment ( and a bit of a buzz)! 
Take a sip or 100 sips of this delicious mandarin orange scent, complimented by the bubbly notes of the finest champagne. Say cheers to all your memories together and lose yourself in glass after glass of nostalgia. You'll love it, mom will love, and anyone else who loves fresh and sweet fragrances will love it.

Please do not ingest!

Shaving Soap Ingredients: Stearic Acid, Beef Tallow, Kokum Butter, Shea Butter, Coconut Oil, Castor Oil, Sodium Hydroxide, Potassium Hydroxide, Distilled Water, Glycerin, Fragrance Oil, Kaolin Clay, Mica Clay, Agave Nectar.

For external use only. Discontinue use if irritation occurs.